Found in the diary
Monika Kubinská
Contemporary art center CSU, Synagogue in Trnava
painting on canvas
2021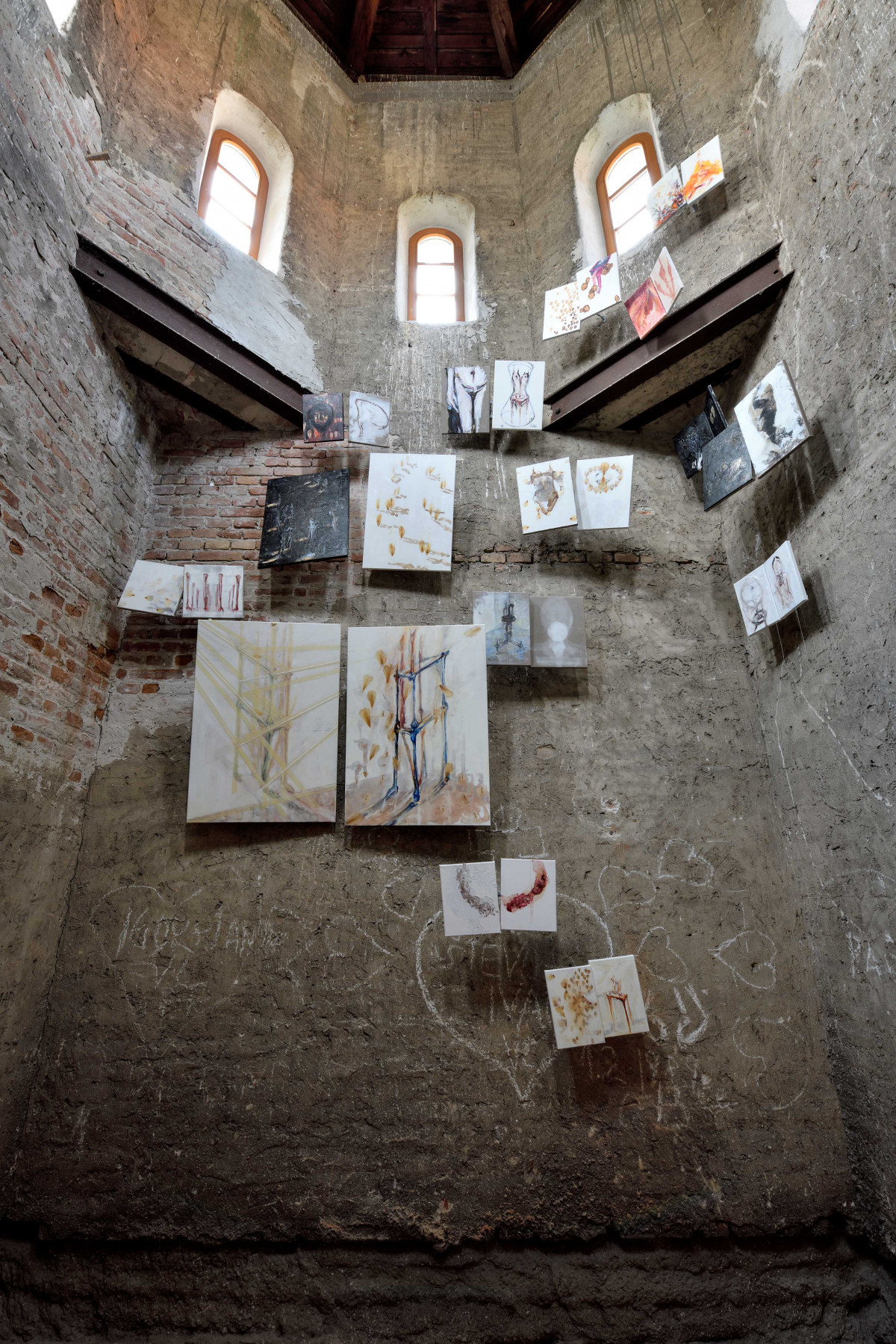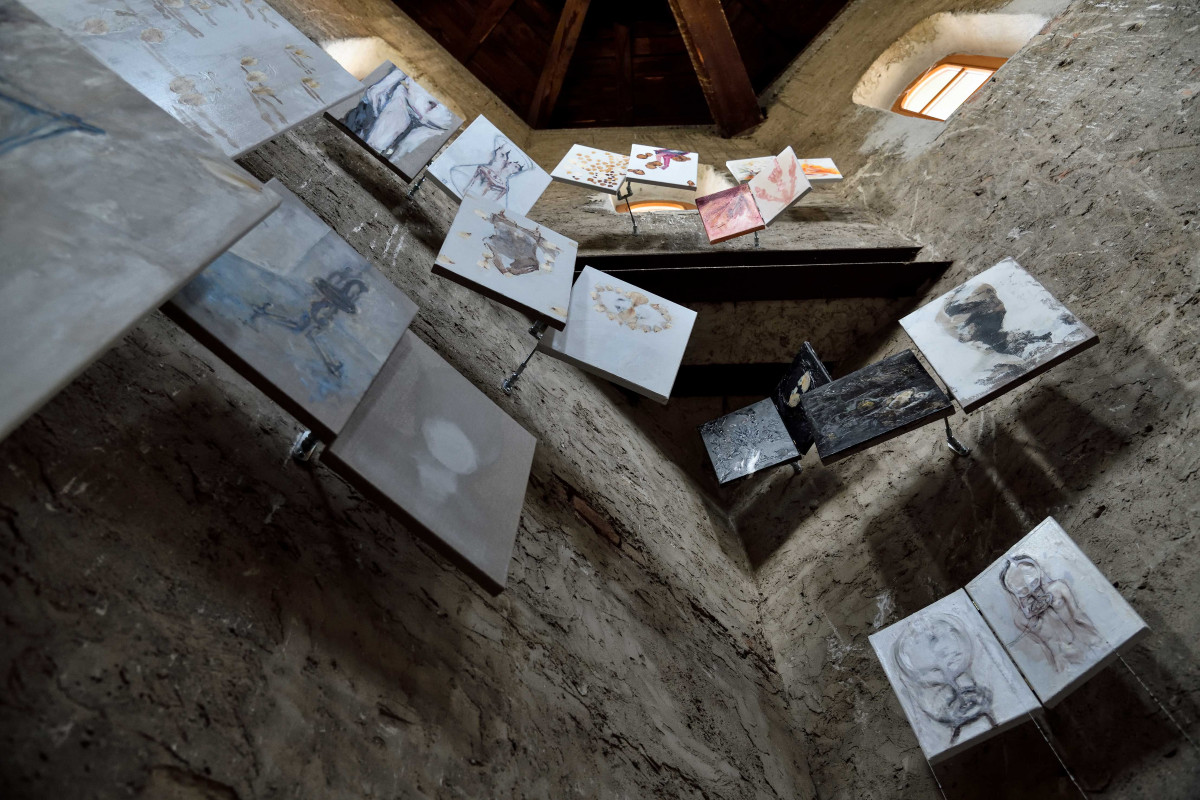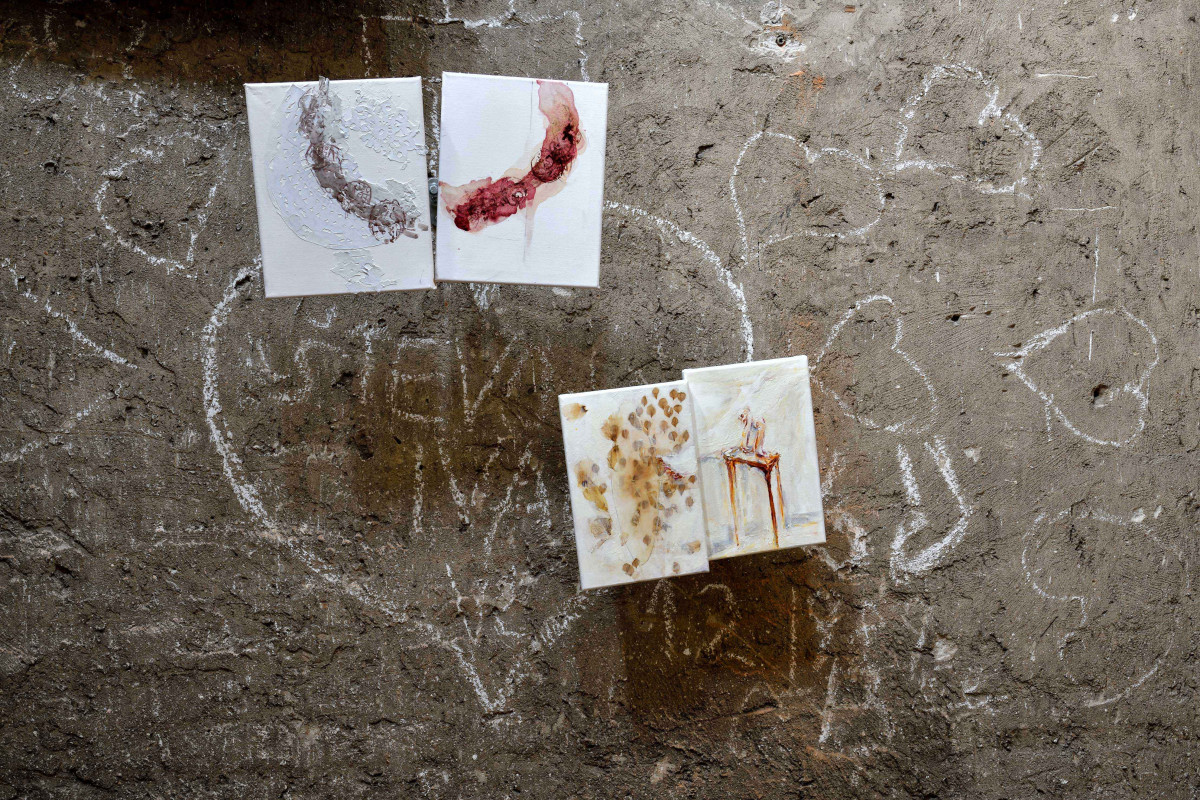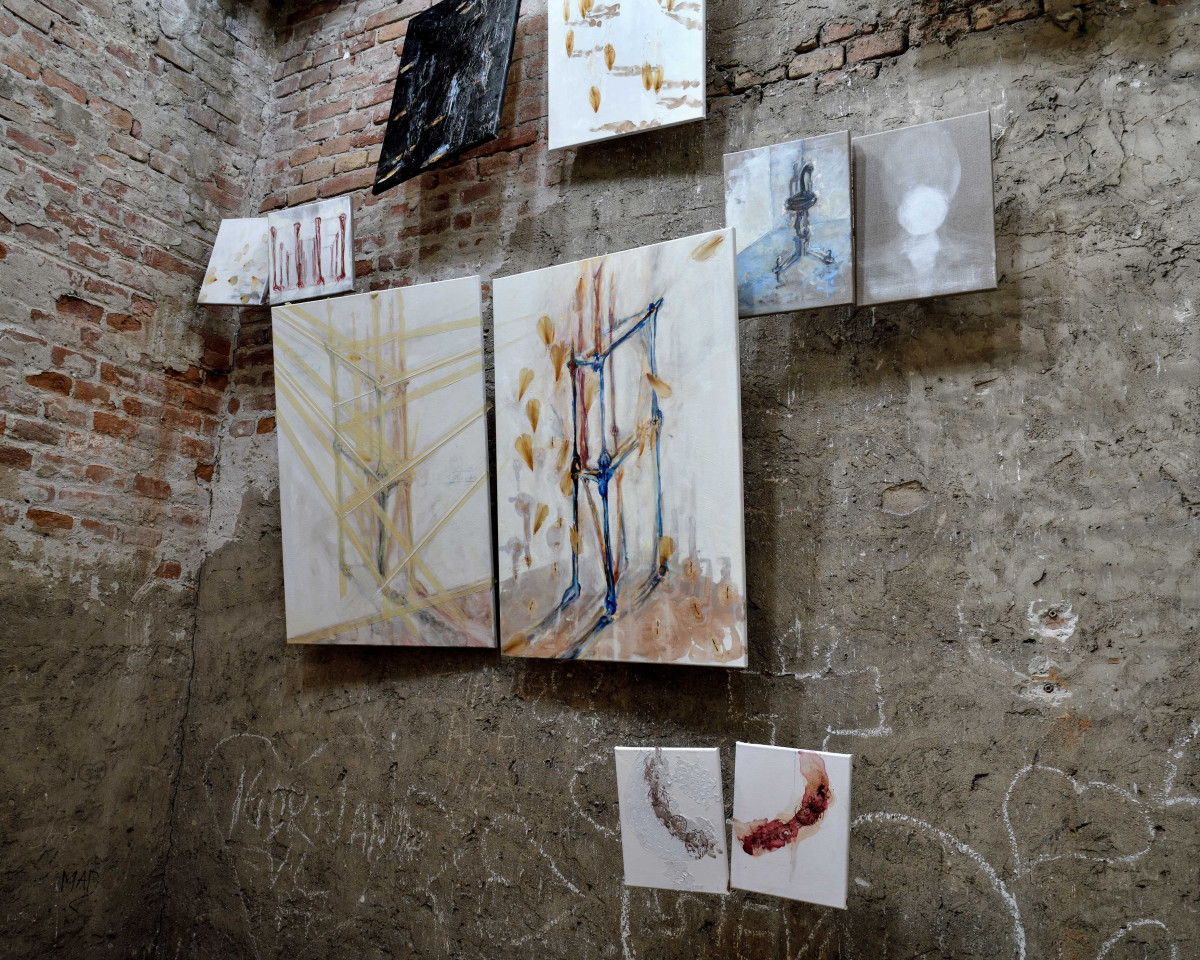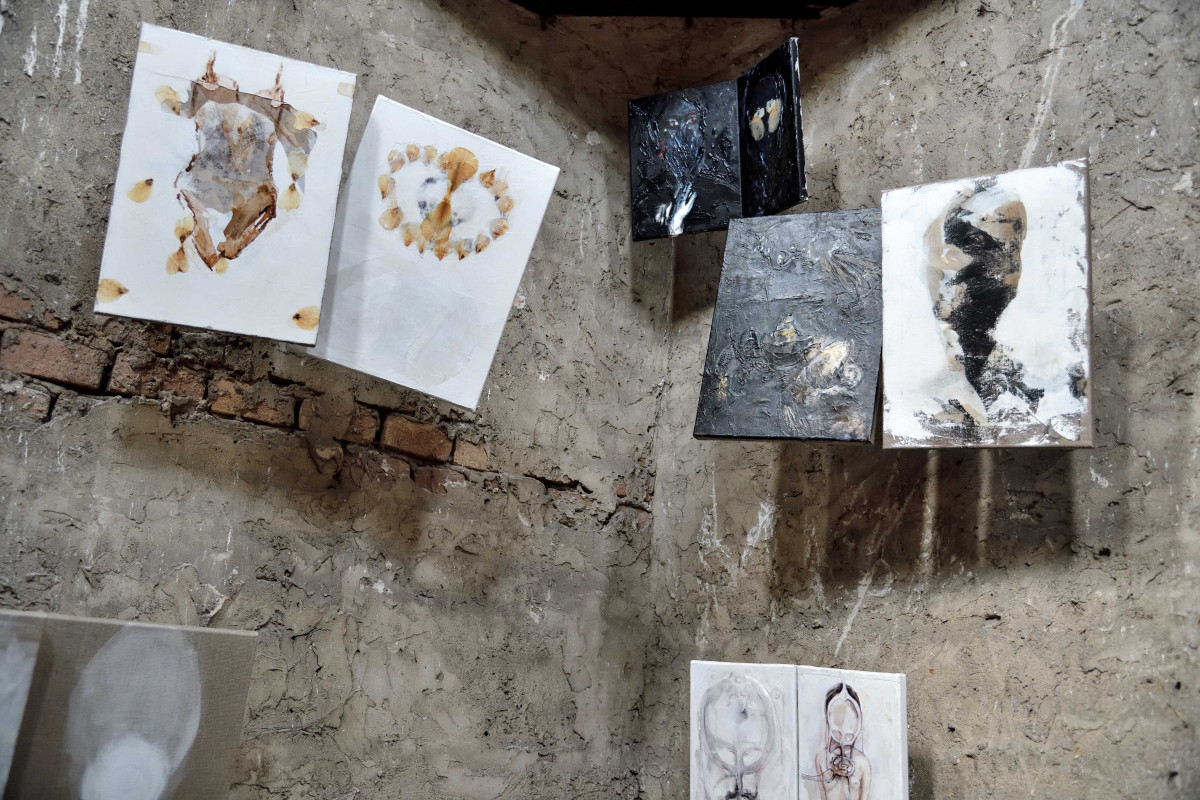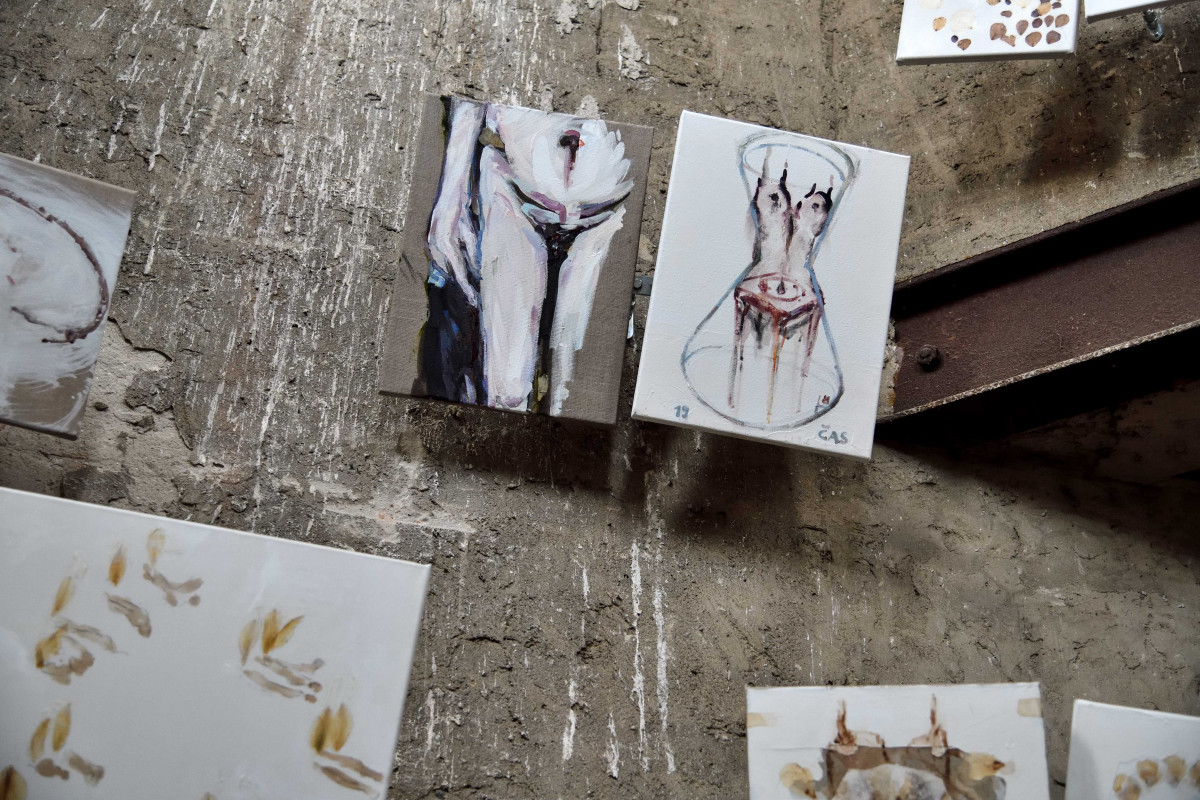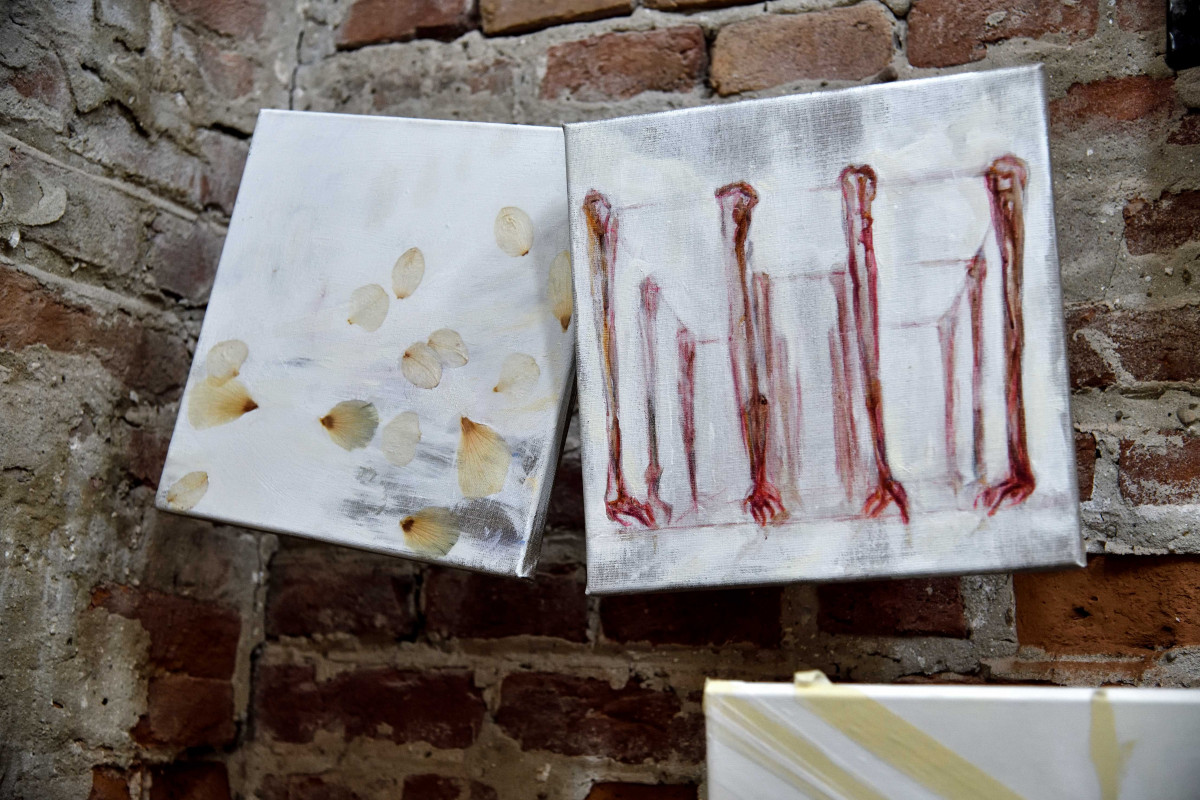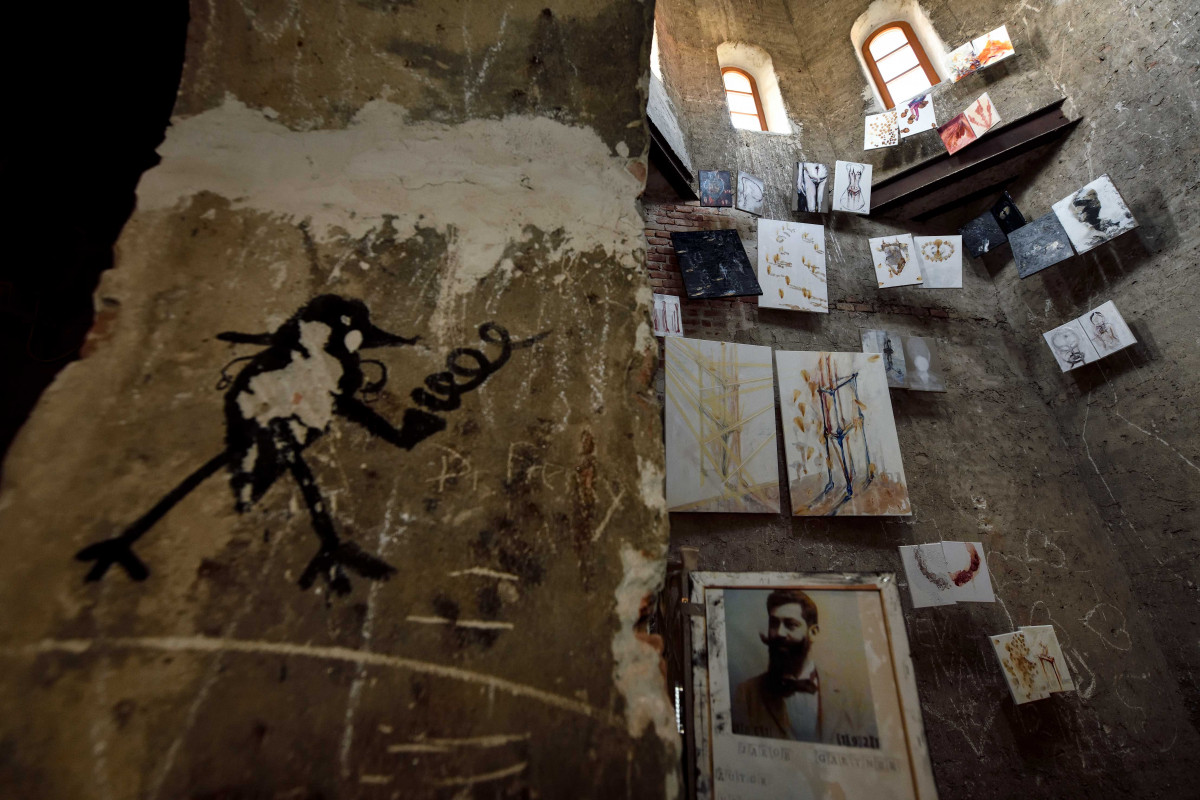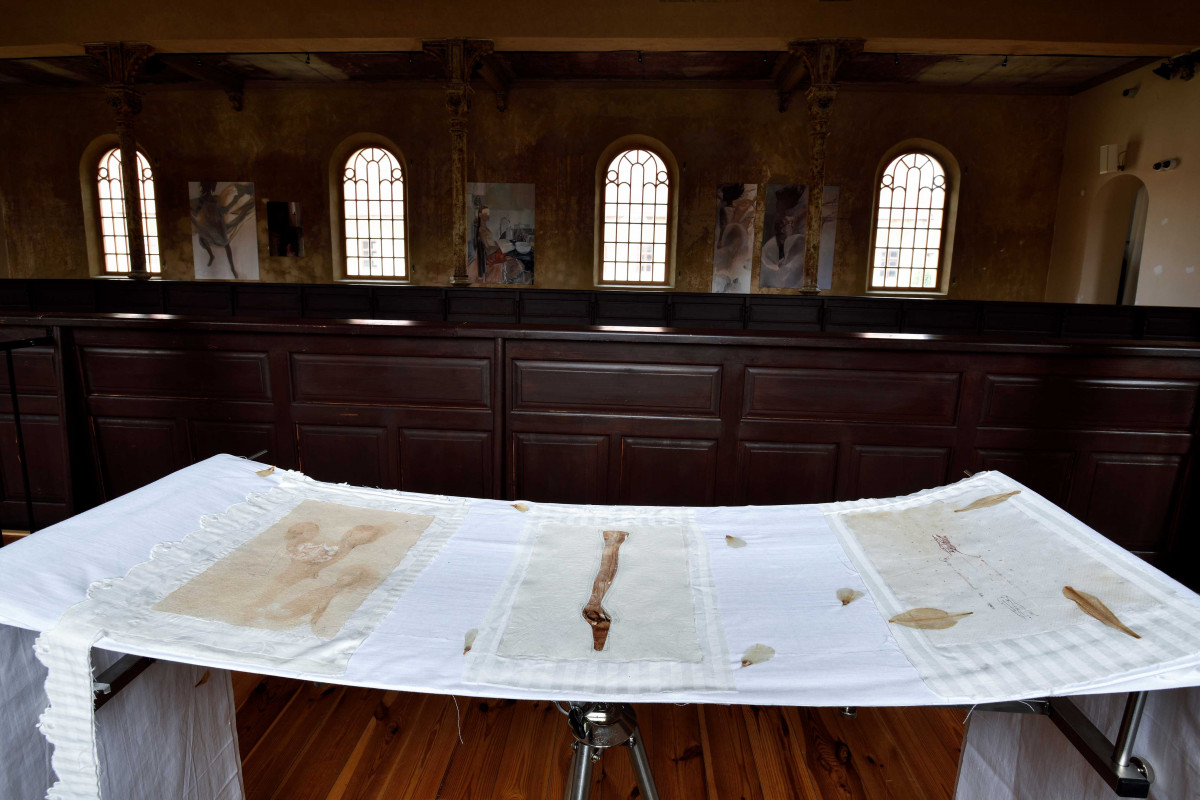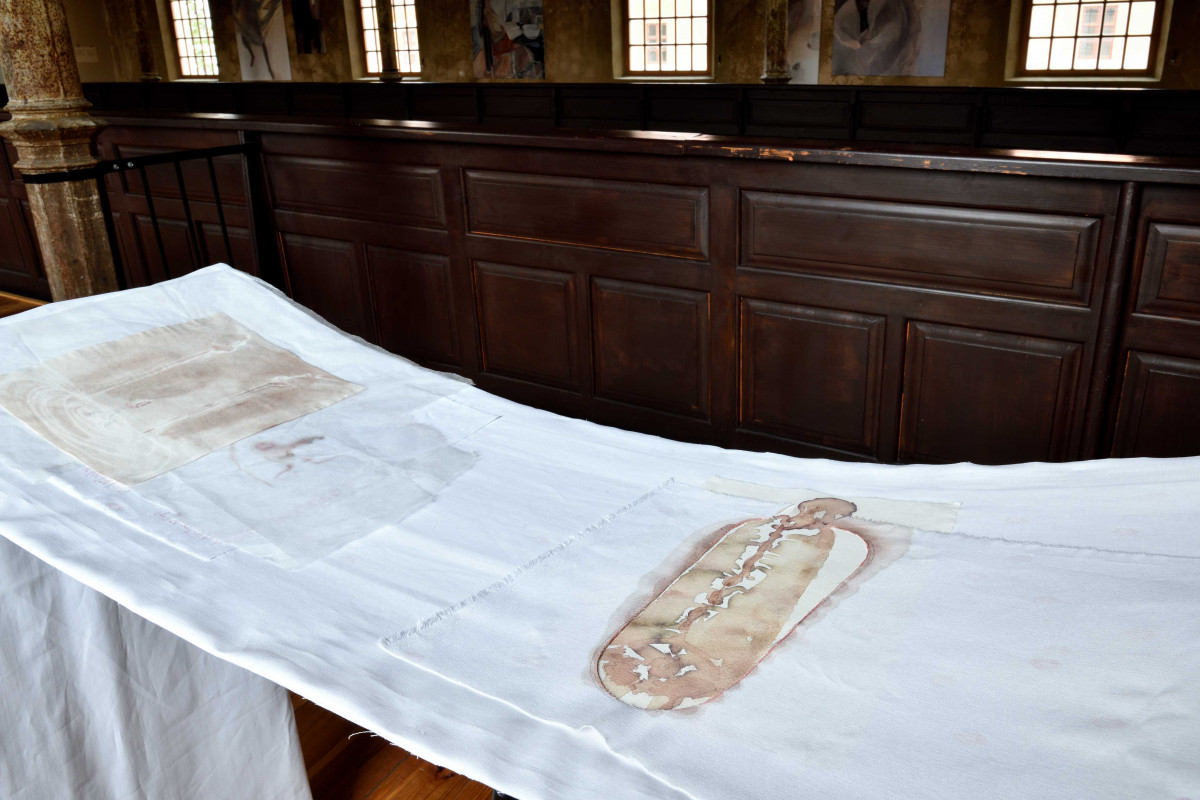 Monika Kubinská (1966) is a visual artist pertaining to the generation of Slovak middle-aged artists (beginning in the 1990s) who actively ruffles the established standard or "canon" of mediums her individual creation focuses mainly on paintings and experimental "pictorial" techniques. Yet, at the same time, she is firmly rooted in non-classical formats of artistic expression such as objects and installations: she typically creates them together with her husband and years-long partner in creation Bohuš Kubinský. The couple, as a duo of artists, are associated with several remarkable artistic works in exhibition halls and, as is often the case, other than expositional premises. Monika is very natural in reading the "memoria loci" and retelling it using an artistic fabric made of her own memories and reflections.
An undefined position on the verge between traditional suspended pictures and "site-specific" installations is also typical of Monika's last exhibition—a project entitled "Nájdené v zápisníku"(Found in the diary) that she designed specifically for the premises of a contemporary art centre in the Synagogue – CSU, Trnava (housing the Galéria Jána Koniarka/Ján Koniarek Art Gallery). The exhibition is a play of poetry and emotions: the author enters the premises of a Neology Synagogue, a place full of and heavy with denotations, and engages in a dialogue with its builder—architect Jakob Gartner (1861-1921), people who used to pray there, casual visitors of the synagogue tower (made present through traces of vandalism), as well as with its today's visitors, attempting to convey the pressing messages of her artistic universe. What she has to say, she delivers through stories emerging from layered individual pictures. Every single picture is a dive into her personal mythology of memories, sufferings and reflections—she does this through analysing and interpreting various personal motifs, relying on universally comprehensible symbols: we can see a ferryman, angels, a heart, vessels, and matriarchs, archetypal constructs and ideograms. The pictures appear to be chapters of one and ever the same (supra-individual) story, always resonating in carefully composed pairs and, as a whole (installed in the synagogue tower) they give the impression of a "well-tuned orchestral suite". This is the side of Monika Kubinská as an author of site-specific installations. Her pictures are placed freely in space before the walls—not event touching the walls as a mark of humble respect—and the whole arrangement resembles a swarm of butterflies. The composition underpins the verticality of the tower, drawing the spectators' view up towards the skies and, leaning backwards, the viewers are compelled to get into a sort of mystical contemplation. She made an excellent use of the spatial properties of the small-profile tower to serve this purpose: the visitors-spectators find themselves alone with both the oppressive and uplifting contents of her pictures, fallen silent in self-reflection. Deeply intrinsic sacrality (across confessional affinities) that has for long been present in her art production, was given an intensified and poetically fragile while also confident ambit. 
Benches

Two objects are linked to the artist's principle of diary records, but this time their installation also processes other motifs: it reminds us of embroidery or a film strip, refers to needlework/handicrafts, dressing up or ritual objects. The artist's interpretation of these associations took the form of fragmentary memories - she communicates with the viewers in hints and invites them to uncover deeper meanings.
Michal Lalinský